We are pleased to announce the completion of kama.ai's Feasibility Study of a 'Virtual Health Assistant' for First Nations and Remote Communities. A summary of the report was presented to Mushkegowuk Council at its Health Conference with its member First Nations on March 8th.
The study was conducted as a result of the pitch competition through the Ontario Innovation Showcase, delivered by the Ontario Centre of Innovation (OCI), supported by the Ontario Together Fund, and was conducted with on and off-reserve test users from a number of Mushkegowuk Cree Communities. It involved a fully functional Virtual Health Assistant 'chatbot' providing conversational access to information regarding health, education, culture, and administrative support accessed via cell phone, personal computer, or tablet.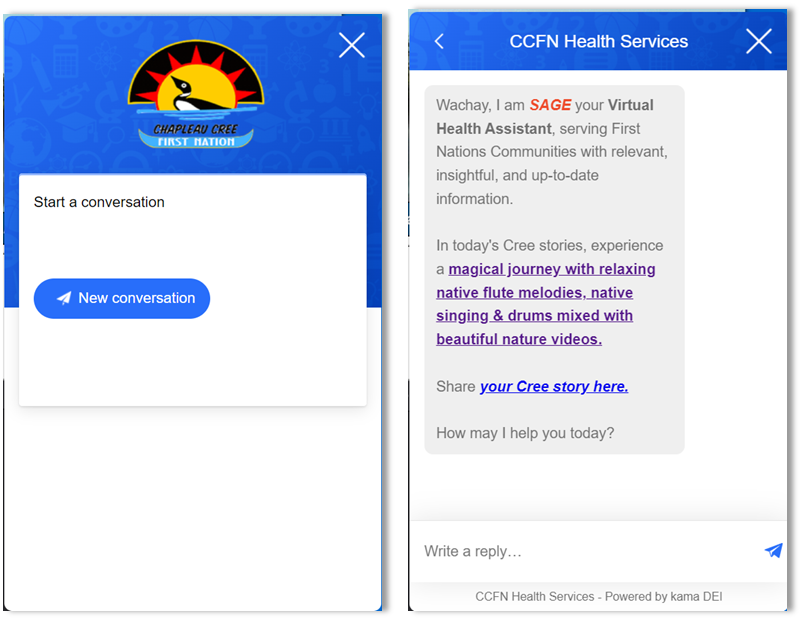 The Virtual Health Assistant was named "Sage" by Community Members. Over the two-week user trial period, the Frequently Asked Questions (FAQ), supported by Sage, grew from 70 FAQs at the beginning of the trial to over 100 by the end using the zero-code Rapid Assisted Learning capability supported by the platform.
Padraic Taaffe, Health Coordinator for Chapleau Cree, and the lead sponsor of the trial and feasibility study, had this to say, 
"Kama.AI's Virtual Health Assistant is the perfect example of the kind of digital health tool that we need: lightweight and agile but with the depth needed to help navigate the volatile, uncertain, complex and ambiguous healthcare landscape facing First Nation peoples. It was easy and intuitive for the community to use but able to deliver clear and pertinent information aggregated from multiple sources."