There are certain barriers to AI implementation within large, medium, and small enterprises alike. Though it has become a business imperative, the rapidly evolving landscape of technology can render the process of digital transformation an intimidating task. In a survey conducted by Gartner, respondents indicated that some of the greatest barriers to AI implementation are as follows: "complexity with AI solution integration with existing infrastructure", "data scope or quality problems", "lack of understanding AI benefits and uses", "lack of skills of staff", "technology is too difficult to use or deploy", and "lack of technology knowledge". Hesitation in automating customer engagement is valid, therefore we seek to employ technology built to address each of the aforementioned concerns.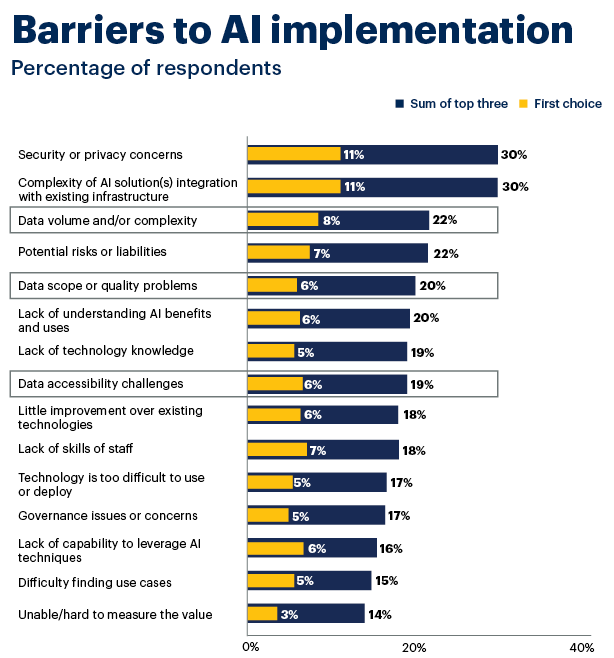 The benefits of AI are many, however achieving them may be difficult. Conversational AI is emerging as a clear opportunity to improve customer experience (CX), grow your business, and gain operational efficiencies, so this seems like a great place to start. 
However, only 1 in 10 organizations are able to get 75% or more of their AI model prototypes into production, according to the 'Gartner AI in Organizations Survey'. Regarding digital transformation in the CX domain specifically, there are two illusory dichotomies hindering both the decision to automate functions and the success of AI deployment:
Solution complexity and resource requirements: Depending on your organization's size and the inhouse expertise, this can be an extremely diverse issue. Smaller organizations may not have the inhouse resources. Larger ones may have the expertise, but legacy – or even modern – IT environments can complicate AI deployment.



ROI and risk to your brand: Where are the 'low hanging fruit' opportunities and what type of investment is required to deploy even one of these? Will you see a return on this investment? Could the solution create a negative impression with your customers?  
Deciding to deploy a conversational AI platform is – now more than ever – integral to remaining competitive and providing an ROI-driven customer experience. It is important to choose an automation technology partner that understands your business values and goals. kama.ai's Designed Emotional Intelligence® platform, kama DEI, allows ease of use while developing strong customer relationships. With our human-centric natural language design, "zero-code" technology, and curated data approach, many of the barriers to AI are effectively overcome at the onset. Our technology can be easily deployed in tandem with an existing chatbot on your website, on its own, or through smart speakers like Amazon Alexa and Google Home. By choosing a user-friendly technology that does not require 'big data', issues in governance and implementation are avoided, while a successful AI deployment and ROI is achievable.